A sore throat is considered chronic if it lasts for two weeks or more. Several different conditions can cause a chronic sore throat. Let's take a closer look at what they are as well as potential treatment options.
Does a Chronic Sore Throat Feel Different?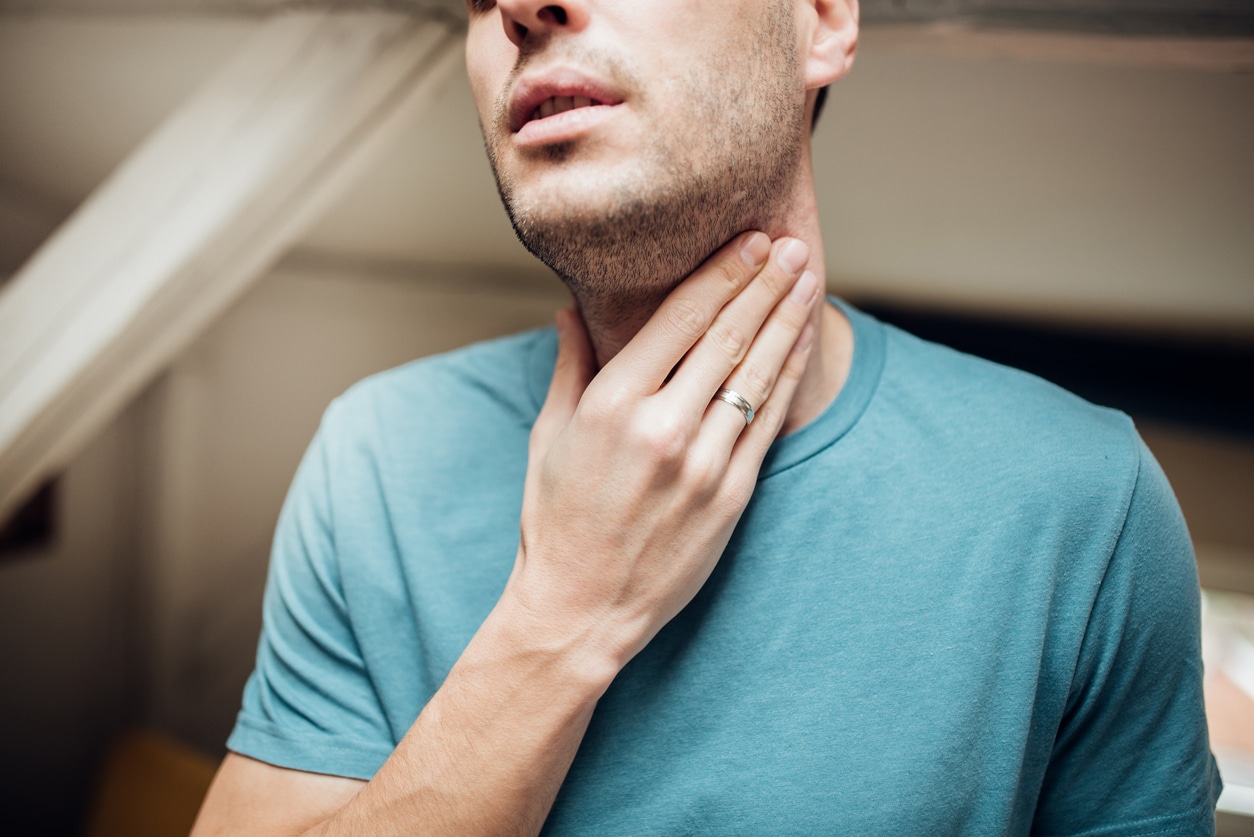 A chronic sore throat can feel similar to an acute sore throat. However, a chronic sore throat is more likely to radiate and cause pain in other areas of the body, like the ear or jaw. Additional chronic sore throat traits include:
Pain when swallowing
A raw or scratchy throat
A burning or hot feeling in the throat
Conditions That Can Lead to Chronic Throat Pain
While not an exhaustive list, the following conditions are known to be some of the most frequent reasons for a chronic sore throat:
Acid Reflux
Most of us have had the occasional bout of acid reflux after a heavy or spicy meal. However, some people experience acid reflux multiple times a week, otherwise known as gastroesophageal reflux disease (GERD). This is when stomach acid regularly flows back up into the esophagus, causing symptoms like heartburn and regurgitation.
In some cases, stomach acid flows up into the throat and voice box as well. This is known as laryngopharyngeal reflux (LPR). In people with LPR, the most common symptom is often a chronic sore throat.
Chronic Tonsillitis
Tonsillitis is an infection of the tonsils, which are lymph nodes at the back of your throat. Many times, the infection is acute. However, if it lasts more than two weeks, it is considered chronic.
Chronic tonsillitis may occur if your infection is resistant to antibiotics, or you have a weakened immune system stemming from a separate health condition. In addition to throat pain, symptoms can include enlarged tonsils, bad breath, and swollen, tender lymph nodes in the neck.
You may need to try several different medications to treat chronic tonsillitis. However, if the infection fails to respond to any medications, your ENT specialist may recommend a tonsillectomy, which is surgery to remove your tonsils.
Allergies
While nasal congestion, sneezing, and itchy eyes are much more common allergy symptoms, allergies can sometimes cause a chronic sore throat as well. This is because allergies can increase mucus production and cause postnasal drip (mucus dripping down the back of your throat.) This can irritate your throat and lead to soreness.
Seeing a Specialist
If you have persistent throat pain that has lingered for weeks, make an appointment with your medical provider. They can run the appropriate testing to determine what is causing your symptoms and help you find the right treatment to bring relief.
For more information about chronic sore throat causes, call our experts at Midwest Ear, Nose & Throat Specialists today.