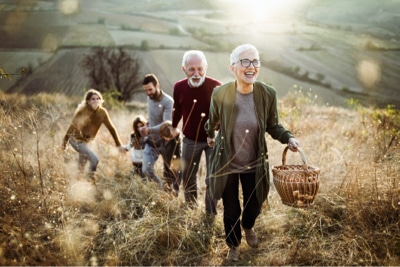 – Written by Midwest Hearing Audiology Team
There's been a lot of buzz about "self-care" during the past year. But what does that even mean? According to activeminds.org, it means: "Doing things to take care of our minds, bodies, and souls by engaging in activities that promote wellbeing and reduce stress. Doing so enhances our ability to live fully, vibrantly and effectively." Investing in your hearing health could be a great form of self-care.
Often times, those with hearing loss don't realize what they are missing. When communication with others is difficult, it can cause withdrawal from people and the activities that keep us engaged with the world. The sense of isolation that may accompany hearing loss negatively impacts emotional and physical wellbeing, as well as overall quality of life.
A study by the National Council on Aging has linked hearing loss to loneliness, depression, anger, stress and memory loss. Another study by Frank Lin, M.D., Ph.D. at John Hopkins suggests the risk of dementia increases with hearing loss; and as the severity of hearing loss increases, so does the likelihood of developing dementia.
Untreated hearing loss can have a financial impact as well. Studies have shown that untreated hearing loss can significantly decrease earning potential by as much as 25% compared to those without hearing loss. Reduced earnings are likely due to the adverse effects hearing loss can have on productivity and efficiency.
There is good news. Treating your hearing loss can improve mental health, social and emotional wellbeing, decrease cognitive and financial risk and enhance relationships with others.
Now might be a great time to invest in yourself. If you are ready to address your hearing health, please contact us to schedule a hearing evaluation and let us help you become more involved with the people and activities that are important to you. Invest in yourself.