Facial Plastic Surgeon, Dr. Christopher Tolan, is proud to be a contributing supporter and health care provider of a recent mission trip to Kiafeng, China this year with an organization called Love Without Boundaries (LWB). Dr. Tolan has been a member of the LWB Foundation for many years now and truly enjoys being a part of this wonderful organization to help those with cleft palate issues. This spring, Dr. Tolan was one of the medical doctors that took the trip to Kiafeng, China among other U.S. cleft specialists, surgeons, anesthesiologists, and nurses. These health care providers traveled to a hospital in China to exchange knowledge and heal as many children as possible. During this medical mission trip, American doctors shared their knowledge of the latest developments and advances in the treatment of cleft lips and palates, and the Chinese medical staff shared how they treat conditions that may be rare overseas. The results were amazing: the Chinese medical staff gained invaluable knowledge of medical techniques, the American team gained greater knowledge of their specialty, and dozens of children received lifesaving cleft surgery in the best conditions.
During this mission trip, Dr. Tolan was joined by a group of volunteers who assisted the him in everything from support in the operating room, holding babies, to logging in children as they arrived for their evaluations and surgeries. This is a phenomenally large operation that requires lots of hard work, patience, and dedication. But, knowing that many children will be given new smiles with the advanced techniques the doctors have learned is extremely rewarding for all involved. Dr. Tolan is proud to be a part of this journey; sharing knowledge with others and creating beautiful new smiles.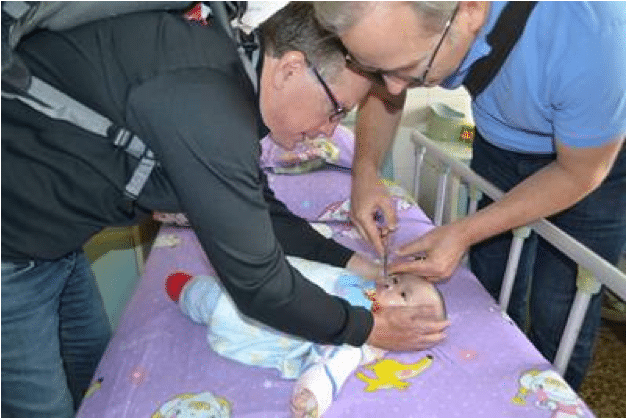 The LWB organization was founded in 2003 after a group of adoptive parents came together to help save the life of one tiny boy in China. Following his successful heart surgery, they realized that people with a pure love for helping children can truly make a difference. LWB has watched the foundation grow from providing a handful of surgeries and baby formula in 2003 to touching the lives of thousands of children today. The mission of this organization is to transform the lives of orphaned and impoverished children by providing hope and healing.
It is LWB's vision to provide the most loving and compassionate help possible to orphaned and impoverished children in China, and to show the world that every child, regardless of his or her needs, deserves to experience love and be treated with dignity and care.
The LWB Team all shares a love for the children in China and work together to bring the gifts of hope and healing to the lives of orphaned and impoverished children. Dedicated and talented individuals work tirelessly implementing our programs. Please learn more about LWB by visiting their website at http://www.lovewithoutboundaries.com/.