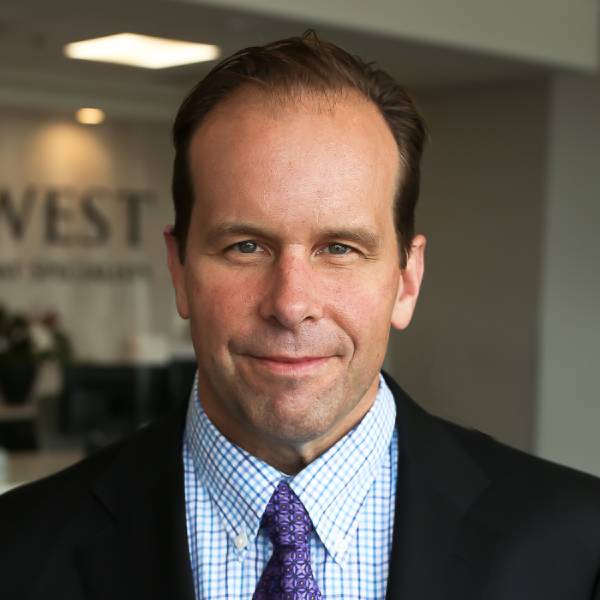 V. Stuart Cox
M.D.

V. Stuart Cox, M.D., is a board-certified ENT specialist with Midwest Ear, Nose, & Throat Specialists.
Dr. Cox graduated from Saint Olaf College and the University of Minnesota Medical School. He completed his residency training in Otolaryngology – Head and Neck Surgery at Yale University. He is board certified by the American Board of Otolaryngology Head and Neck Surgery.
Dr. Cox served as President of the East Metro Medical Association in 2007 and is on the Board of Directors for the Minnesota Medical Association.
Dr. Cox's expertise in sinus and nasal disorders, voice problems, and pediatric ear, nose, and throat conditions makes him an excellent resource for teaching and educating health care providers in the Midwest on cutting-edge ear, nose, and throat treatment and procedures.
Dr. Cox just completed a 9 year term on the Board of Directors for the Children's Shelter of Cebu. He enjoys third world outreach medicine and has done mission trips to: Costa Rica, Tanzania, the Philippines and Zambia.
Reviews
December 2, 2022

Dr. Cox was exceptional and such a delight. He had an incredible approach with my toddler, who looked forward to his appointments for that reason. The facilities were also wonderful and we had an overall fantastic experience.
November 17, 2022

Ease of getting in for an appointment was so much sooner than were I was originally referred. I was originally going to a different practice but it was a 5 month wait and i was having serious health problems. Midwest ENT got me in within like two week and Dr. Cox got me on treatment plan to help me start feeling better. Very grateful to the care I received from Midwest ENT.
October 14, 2022

Nurses were helpful & friendly. Dr. Cox was wonderful.&Spoke loudly to my husband until he could hear again. After in the car,. Bill said this was amazing to be able to hear so well again!!!
September 16, 2022

Everyone on the staff is very helpful and pleasant. Midwest ENT was highly recommended, and for my particular condition, Dr. Cox was highly rated. His treatment and advice have done a great deal to improve my health and feeling of well-being. I'm most satisfied Midwest ENT. Dr. Cox is outstanding!
September 14, 2022

We had a phenomenal experience at our appointment. The office itself is beautiful and extremely well-maintained. Dr. Cox was incredible with my 3-year-old son and made him feel very comfortable. We could not have had a better experience with everyone!
August 22, 2022

The front desk was very pleasant and talked nicely as people came and left. Dr Cox was so supportive and kind. I had so much relief, I cried with happiness. Thank you.