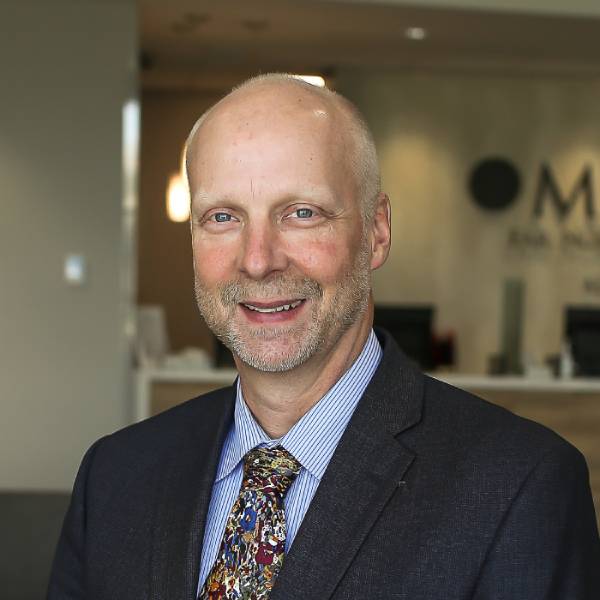 Blake Strand
Au.D. CCC-A

Blake Strand, Au.D. joined Midwest Hearing in 1993 and is the Director of Audiology. He received his Doctor of Audiology Degree from Arizona School of Health Sciences in 2004 and a Master's degree in Audiology from the University of Wisconsin – Madison in 1991. Dr. Strand received his Certificate of Clinical Competence (CCC-A) in Audiology in 1992 and is a Minnesota Licensed Audiologist. He is a member of the American Academy of Audiology, the American Speech-Language-Hearing Association and the Minnesota Academy of Audiology. He was also a past member of the Board of Directors for the Minnesota Academy of Audiology. Dr. Strand serves patients in the Woodbury office.
Specialties
Reviews
February 17, 2022

I have and will continue to recommend your practice to others. I've seen Dr. Blake Strand over many years and he is consistently outstanding, providing professional and friendly guidance.
January 15, 2022

I really appreciated the discussion with Blake to choose my new hearing aids. Blake was very thorough in his presentation, carefully outlining all the available types of aids and indicating the pros and cons of each. I was very impressed with the equipment that will be used to tune my aids and provide the best possible fit to my hearing.
December 10, 2021

Always courteous and thorough. Willing to take tough questions and to admit when there might not be a perfect solution.
November 11, 2021

It is always a pleasure to have an appointment with Blake Strand. He is kind, caring, knowledgeable and a good problem solver if I am ever having a problem with one of my hearing aids. I appreciate his expertise and skills!
October 06, 2021

Blake Strand was efficient, explained the test results and answered my questions.
October 01, 2021

Blake was exceptional as always.
September 24, 2021

Blake was extremely helpful as usual.
August 11, 2021

Blake Strand is an excellent audiologist. He is a good listener and gives very useful feedback. He is patient and very personable!
July 24, 2021

I think Blake Strand is an excellent and knowledgeable audiologist. He has always been able to resolve the problems I have with my hearing devices, and pays attention to my concerns.
June 28, 2021

Blake is fantastic! Knowledgeable, friendly, and helpful.
June 11, 2021

I met with Dr. Blake Strand and, as usual, had excellent, professional service. I've been a patient of his for well over 15 years and always feel confident that provides the best guidance and recommendations to address my hearing needs. He's great!
June 08, 2021

I was very impressed with my audiologist. He was professional, kind, and very good at answering my questions. I will definitely recommend him to others.
June 08, 2021

Dr. Blake was very thorough, kind and clear. He made everything understandable.
May 27, 2021

Blake Strand has been helpful, reliable and engaging as my main audiologist for many years.
May 19, 2021

Blake, the audiologist has always been professional, caring, helpful, and helped me in a time of need when I needed a hearing aide ASAP. He is awesome! Yo