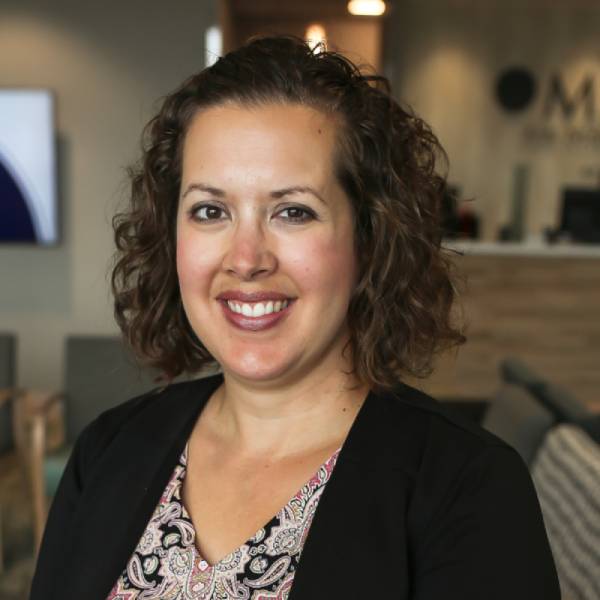 Amanda Salmon
Au.D. CCC-A

• Amanda Salmon, Au.D. joined Midwest ENT specialists and Midwest Hearing in the summer of 2002 until 2012, and rejoined the practice in 2014.
• She received her Doctor of Audiology Degree from Salus University in 2005 and her Master's Degree in Audiology from the University of Wisconsin – Oshkosh in 2002.
• Dr. Salmon maintains her Certificate of Clinical Competence (CCC-A) in Audiology which was also obtained in 2002.
• She is a Minnesota & Wisconsin Licensed Audiologist and a certified Minnesota Department of Health Hearing Instrument Dispenser.
• She is also a member of the American Academy of Audiology and the American Speech-Language-Hearing Association.
• Dr. Salmon serves patients at our Woodbury clinic.
Specialties
Reviews
October 07, 2022

Amanda, my long time audiologist in Woodbury is outstanding. Always has a way to solve my hearing problems. Such a friendly lady. 10/12/2022
September 20, 2022

Amanda is very good.
August 19, 2022

Dr Salmon and Dr Strand are ALWAYS EXCEPTIONAL!! ALWAYS VERY CARING and KNOWLEDGEABLE.
July 27, 2022

My audiologist was so knowledgeable, and took care of the problem of my once a minute dinging in my hearing aids. She was also very nice.
July 20, 2022

I've been a patient at Midwest Hearing for many years and my kids also. Always good service and friendly people. If I find fault it's because they call and remind me of my appointment to many times.
July 01, 2022

Amanda Salmon was so helpful and informative, both times I have met with her she has gone above and beyond.
June 22, 2022

Amanda provided answers to our question and diagnosed the problem. We are grateful.
June 10, 2022

Amanda does a great job.
June 01, 2022

Amanda S , Au.D. At Woodbury was both thoughtful and efficient in listening to and responding to my unique concerns regarding hearing devices and clearly explaining potential solutions. Thank you!
May 14, 2022

Amanda Salmon was very knowledgeable and very easy to work with. She explained the problems with my Baha hearing device and set up a loaner in the parameters to fit my hearing loss. And set my device in for warranty work. I had a great experience.
April 06, 2022

Amanda is very helpful and friendly
March 05, 2022

Dr. Salmon is always very caring, helpful, and knowledgeable. Absolutely the finest!
November 19, 2022

Amanda did a wonderful job answering my hearing concerns and was very knowledgeable and very friendly.
February 11, 2022

A. Salmon, audiologist, excellent
January 18, 2022

Amanda Salmon provided clear, concise, and helpful instructions for my new hearing aids. Her affable demeanor makes every visit a pleasure.
December 01, 2021

Amanda has been great working with me and my needs. She makes herself available when needed and make sure that I am getting the results I need.
December 01, 2021

Amanda has been my audiologist for a long time and remains one of my favorite specialists.
October 16, 2021

Amanda S. She always is so knowledgeable & willing to share that knowledge about hearing aid's with my wife & I. I am legally blind-Amanda is helpful to me-always! So kind!!!!
September 17, 2021

The audiologist I see is Dr. Amanda Salmon. She is excellent – always so very capable and professional while also being personable. She is "the best"!
September 03, 2021

Amanda was very professional, answering my questions, explaining procedures, what I will should do to help me now and in the future. The information she gave me is extremely helpful once you leave your office.
July 21, 2021

Amanda Salmon was provided clear and proficient audiologist exam and followed up with detailed explanations of the report. Dr Carol as well was very detailed in his findings and his approach in treatment.